According to a leading representative of a group of exporters, India's exports of goods and services are projected to reach $900 billion in the current fiscal year, which is an increase from $770 billion in the previous year. Despite global challenges, India's exports remain strong and resilient.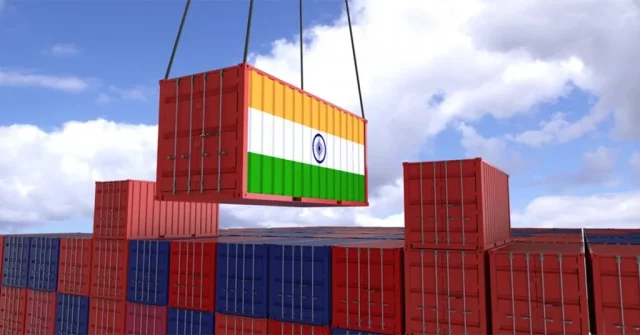 Ajay Sahai, who serves as the Director General of the Federation of Indian Export Organizations (FIEO), has predicted that India's merchandise exports are likely to increase to a range between $495 billion to $500 billion, and services exports could reach $400 billion by March 2024.
The speaker mentioned that there is still robust demand from foreign countries in many markets.
The Trade Minister, Piyush Goyal, encouraged exporters to look into new markets as there are concerns about the potential effects of the Ukraine conflict and a global economic slowdown. Nonetheless, the speaker noted that there is still solid demand for goods from foreign markets in several sectors.
During an industry event on Wednesday, Goyal cautioned that the future is likely to be extremely challenging and fraught with difficulties, particularly in light of the ongoing conflict and its potential consequences.
The government led by Prime Minister Narendra Modi has established a goal of achieving $2 trillion in exports by 2030. To encourage the export of various products such as electronics, engineering, and pharmaceuticals, among others, incentives have been provided.
Over the past two years, India has witnessed a substantial rise in exports, with the total amount increasing by over $200 billion. This growth has been primarily driven by a surge in exports of software, mobile devices, as well as agricultural and petroleum products.
While exports of engineering, gems, and jewelry goods have experienced a recent slowdown, the export of agricultural, petroleum, and electronic goods have maintained their strength in Western markets, thanks in part to pricing considerations. Exporters have also reported significant growth in exports to Asian and Middle Eastern countries.
Read More: GST evasion detection nearly doubles to Rs 1.01 lakh cr in FY23
Last week, Sahai joined a business delegation of 50 individuals on a trip to Russia, during which he noted that there is a significant demand for Indian products, particularly food items, due to the Western sanctions that have been imposed in response to the Ukraine conflict.
Sahai mentioned that Indian exporters are optimistic that a payment mechanism in local currencies will soon be established between the two nations. This would help to streamline the shipment of Indian products to Russia.
Indian officials have expressed that Russia has shown reluctance in accepting payments for its oil exports in rupees. In light of Russia's invasion of Ukraine in February 2022, India has not directly criticized the actions of Russia and instead has called for constructive dialogue to resolve the ongoing conflict.
Are you Looking for GST Refund Service? Mygstrefund.com offers GST refunds on business, gst refund on exports, and many more if your GST application is rejected. Get in touch with us today.